SCADA Connect
Simplify configuration and integration of TopView with popular SCADA/HMI packages

Overview
TopView can perform alarm and notification function for many popular SCADA/HMI packages. The communication between TopView and the SCADA/HMI is usually through the OPC Server provided by the SCADA/HMI.
Out of the box, TopView OPC allows you to connect to any OPC-compliant Server. This could be an OPC Server for a PLC, control system, historian, or SCADA/HMI. TopView OPC give the user full control over its configuration – the points to monitor, handshaking for acknowledge, health monitoring, notifications, reports, and more.
SCADA Connect is designed to simplify the integration and configuration of TopView with many popular SCADA/HMI packages. Initial TopView configuration can be completed by importing the alarm details from the SCADA/HMI including alarm tags and alarm detection, descriptions/messages, priorities, bi-directional acknowledge, and alarm groups/areas. After the initial configuration it can continue to help synchronize the alarms in the SCADA/HMI and TopView.
Example SCADA/HMI integration components are included to provide bi-directional watchdogs and access to various features and components in TopView.
SCADA Connect is included in TopView for supported SCADA Systems
Watch our SCADA Connect videos to learn more
Supported SCADA/HMI for HMI Sync
(HMI Sync: automatic alarm import and configuration)
Aveva/Wonderware

InTouch

Full support for versions 2012 (10.5) and later
Versions earlier than 2012 (10.5) – Example InTouch displays and scripts must be manually created.

System Platform

Full support for version 2020, 2017-Update2, 2014R2 SP1 (4.1.131)
Versions earlier than 2012 – Example System Platform objects must be manually created.

InTouch Edge / Indusoft

Rockwell

FactoryTalk View SE
A&E tag-based, HMI tag alarms, and Controller-based alarms

FT Linx Gateway (previously FT Gateway) required from Rockwell for communication between TopView and FT alarms
Full support for versions 6.x and later

Example HMI Files are designed for v9.0. Use the Gfx files and images inside the V6.X folder for versions prior to 9.0. All other files can be imported to versions prior to v9.0.

Versions earlier than 6.x – Example displays must be manually created for versions earlier than v6.0.
PlantPAx compatible

RSLinx Pro w/ Logix PLC
RSView32

General Electric (GE)
Aveva/Schneider Electric

Citect
ClearScada / Geo SCADA

Siemens SIMATIC WinCC v7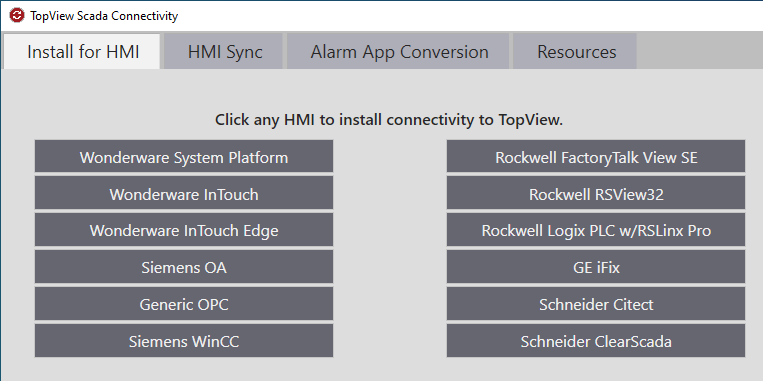 Example HMI Additions
Example SCADA/HMI additions

A set of example HMI tags and scripts (or object packages) that can be imported into the HMI for status and alarms.
Example HMI Displays for Status & Alarms
Shortcuts to TopView applications and TopView Mobile Web App
Shortcuts to Daily Report, Current Values Snapshot, and Current Alarms Snapshot
Gateway status and automatic reconnect scripts
Status and alarm visuals