TopView for OPC A&E
OPC Alarms and Events (OPCA&E)
TopView Events for OPCA&E allows you to easily monitor, filter, report, and send notification (Email, SMS, TAP, Text-to-speech, Voice callout, …) for events generated from one or more OPC Alarms and Events Servers.
OPC A&E is a standard that allows alarm and event generators to report the details of their events to clients. An OPC A&E client (TopView) can subscribe to the events without knowledge of the specifics of the underlying alarm generator.
Each OPC A&E event contain details such as
The type of event
The area and source of the event
Severity
Event message
TopView OPCA&E allows the user to monitor, track, historize, and notify events from any OPC A&E Server including .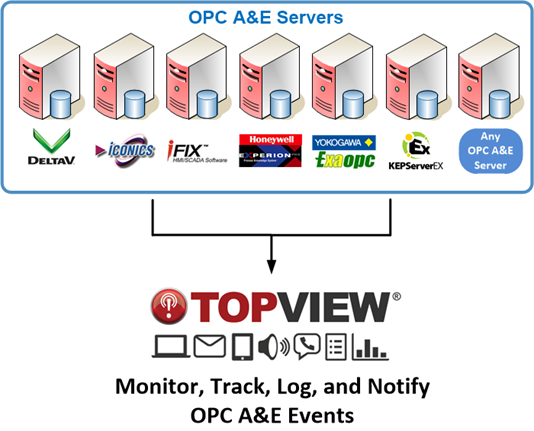 More about OPC A&E
Users of TopView Events for OPC A&E need to have a basic understanding of OPC A&E and the creation of subscriptions. We've posted information and videos describing the OPC A&E specification and the creation of subscriptions:
OPC Alarms and Events resources and information
Video: TopView Events for OPC A&E
Watch the TopView Events OPC A&E overview and demo video
Download: TopView OPC A&E
You can download and test TopView Events for OPC A&E.