Exele Newsletter August 2019
In this issue
TopView 6.32 Release
Environmental Reporting Update
About: TopView Web Configurator (new feature in v6.32)
About: TopView MQTT Support (new feature in v6.32)
Alarm and Notification Software for OPC/SCADA, OSIsoft PI, OPC A&E, SQL, Canary Labs, and PerfMon
TopView 6.32 Highlights:
Web Configurator – initial release (more information below in this newsletter)
MQTT Support: subscriber and publisher (more information below in this newsletter)
Inhibit tags
Environmental Reporting Update
Exele's PI-DAS software has been deployed at several new sites and existing sites have added additional sources.
PI-DAS is being used to meet the requirements of 40 CFR Part 60 and provide easy annotation of CEMS exceedances and downtime events along with quick generation of an Excess Emissions and Monitoring Systems Performance report.
Additionally, over the last few months, Exele has provided solutions for Refinery Sector Rule (RSR) and provided reporting to help sites comply with their flare monitoring plans. 
An additional RECLAIM facility is now reporting emissions using Exele's software and receiving real-time alerts from TopView.
About: TopView Web Configurator
The main configuration tool for TopView is the TopView Configurator, a desktop application that runs on the TopView machine.
TopView now includes a web-based configuration application that can be accessed local or remote to the TopView machine using a browser, similar to the TopView Mobile Web App.
The Web Configurator in v6.32 allows users to view/add/edit (based on permission) TopView's Contacts, Schedules, and Notification Groups. More configuration options will be part of future TopView releases.
Try the live TopView Web Configurator demo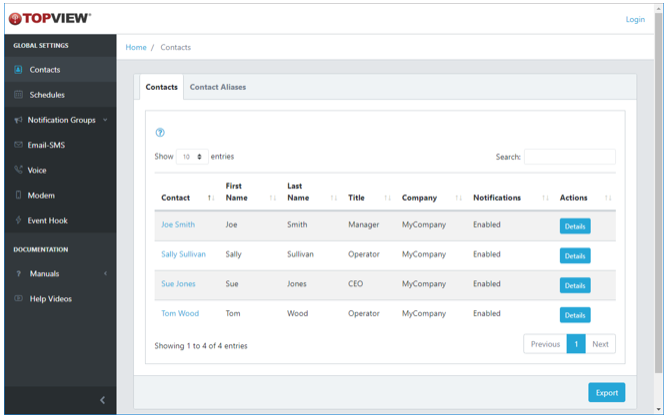 About: TopView MQTT Support
MQTT is a publish/subscribe protocol that works extremely well for collecting data from remote sensors that may have intermittent network connections, require a low bandwidth communication protocol, and may run on a wide-range of lower-end devices.
All versions of TopView Alarm and Notification Software can now publish MQTT messages, and our new TopView for MQTT product can subscribe to MQTT messages for alarm and notification functions.
Learn more: