TopView Remote Viewer Client
Using the TopView Remote Viewer, users can:
Remotely monitor the value and status of all TopView tags
View current alarms
Hear audible alarm messages
(WAV and text-to-speech)
Acknowledge alarms
Set tags active or inactive (desktop only)
View alarm history, and analytics
Create Alarm Reports
Enter alarm comments/annotations
---
Using the Remote Viewer with TopView
The Remote Viewer can be located on any Microsoft Windows computer that has network access to the TopView Alarm and Notification Engine computer. This may be within your company (LAN) or anywhere in the world (Internet or VPN).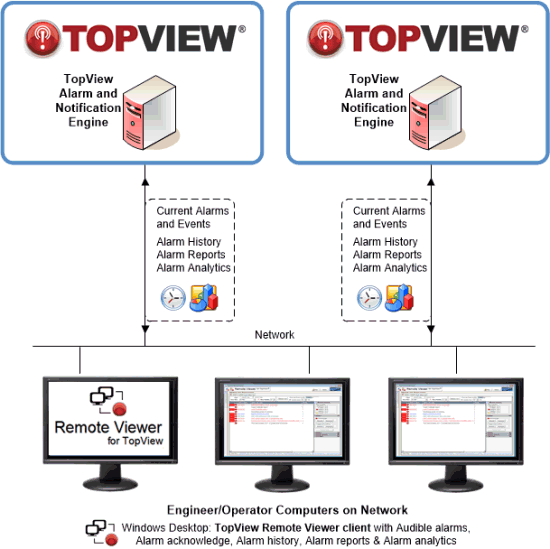 Licensing
The Remote Viewer is licensed by "number of simultaneous connections" to the TopView Alarm and Notification Engine. Each TopView Software license includes one (1) connection license for the Remote Viewer. TopView customers may purchase additional remote connection licenses (remote license count). The license count allows X simultaneous Remote Viewer connections to the TopView computer.
Remote Viewer Download
The Remote Viewer for Microsoft Windows is installed with TopView v5.5 and later. If you would like to download the Remote Viewer for other machines on your network or would like to update your version of the Remote Viewer, you can do so here.
The Remote Viewer is a free download. There is no installation required. See the download page for more information.