Debugging VOIP Calls
Overview
TopView supports making voice calls through VOIP. This requires a network connection between the TopView machine and the VOIP/SIP Server.
Once the correct credentials are configured calls may still fail due to firewalls or port restrictions between TopView and the VOIP/SIP Server.
VOIP Firewall Checker
The 3CX firewall checked can help diagnose firewall or port issues between TopView and the VOIP SIP Server.
Download the 3CX Firewall Checker
The firewall checker is available from 3CX.
Running the 3CX Firewall Checker application
In this example we ran the checker against a Grandstream VOIP device located in our office.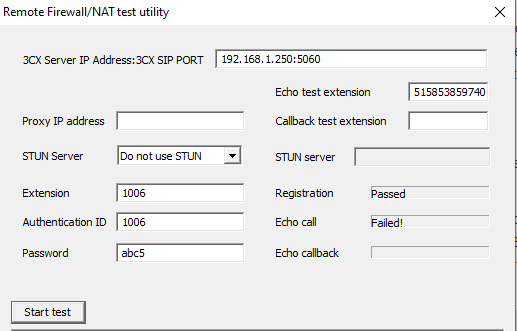 3CX Server IP Address:port
Enter the IP address or host name of the SIP Server. If you are not using the default SIP port (5060) enter :port after the SIP Server
Extension
Enter the phone extension that you plan to use in TopView.
In the TopView Voice Notification setting, this field is named "User name"
Authentication ID
Enter the registration name.
In the TopView Voice Notification settings, this field is named "Authorization name"
Password
Enter the password for registration name/Authentication ID.
Echo text extension
Enter the number that you wish to call through the SIP Server. In our example, the Grandstream is configured to make external calls through the analog phone line if the number starts with a 5.
Callback test extension
Do not enter anything here
Click [Start test]
Perform a test call and report any discovered problems. If the test works you should receive a call at the entered "Echo test extension". If you receive a call you can ignore the Echo Call: Failed! result since the number you called does not perform an echo.