(TopView menu goes here)
Overview
Exele's TopView® software is a powerful, yet easy-to-configure, alarm management, alarm notification, and remote monitoring tool for Process and Automation data, Databases, and System Performance & Network Ping Response data.
Process and Automation data:
TopView OPC/SCADA, TopView PI/Rockwell FactoryTalk Historian (OSIsoft PI), and TopView for Canary Labs
Databases:
TopView SQL for ODBC and OLEDB data sources (relational databases, spreadsheets, files) Read more…
System Performance data:
TopView PerfMon for Microsoft Windows System Performance and Network Ping Response. Read more…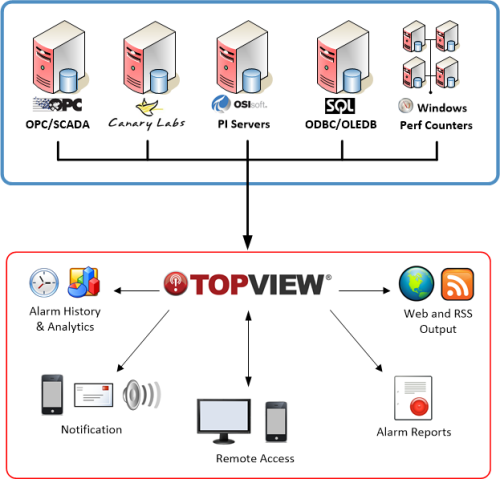 TopView is a comprehensive, cost-effective alarm management and alarm notification tool that is being used successfully wherever data measurements need to be monitored, such as in water and wastewater, electric power generation, oil and gas, manufacturing, building management, chemical, pulp and paper, research, communication, transportation, IT, and system performance.
TopView allows you to quickly and precisely respond to abnormal conditions, saving time, equipment, material, and money. Users find it to be a far superior solution to other alarm and notification solutions or traditional auto-dialers.

Download TopView Data Sheet (PDF)
You can easily customize specific notification messages and directions for each monitored point so you know precisely what and where the problem is; establish a cascading queue of alarm notification recipients; and even launch other applications in response to alarm conditions.
Feature-rich, easy-to-use alarm configuration and monitoring
For process data, works safely and seamlessly with your existing SCADA, PLC, or Historian product. For relational databases, works with both ODBC and OLEDB
For system performance monitoring, requires no additional drivers or remote software
Sends alarm notification messages through email, SMS, alphanumeric pagers, and cellular phones
Voice annunciation and text-to-speech technology allow delivery of audible alarm messages over the phone or computer's speakers
Two-way email/SMS communication for alarm acknowledge and query of current state
Remote access and acknowledge supported though dial-in phone, networked computers (Remote Viewer client and Mobile Web App), Email/SMS (acknowledge).
Current and historical alarm reports with optional alarm logging to SQL Server
RSS Feeds of alarm activity for desktop, mobile, and tablet RSS readers
Alarm analytics to recognize over-alarming, bad actors, and alarm floods as part of an alarm analysis and rationalization process
Safe, secure, cost-effective solution