How it Works
Create Templates
The Template Manager assists in the creation of measurement templates. Templates can be created for "measurement Y vs. time" or "measurement Y vs. measurement X.
The template limits can be created through statistical calculations on previous, successful events (golden batch or event), or known templates can be imported directly into into the Template Manager.

The Template Manager is used to
Create and manage local templates
Export templates to central storage (PI Server Module DB or ProcessTemplates DataServer) for deployment and real-time monitoring
Create and Manage ExpressionEvents
Template Manager Application
Template Manager Application

Assign Templates to Events
The measurement templates are process measurement profiles. Before a template can be used for real-time monitoring of measurements, it must be "assigned" to one or more events.
In some cases, a single template can be used to monitor the measurement value of events on different physical equipment; for example, you may have 5 identical pieces of equipment, and a single startup temperature template can be used for events on each one, since the desired measurement profile is the same.
At other times, you may have similar pieces of equipment, yet due to variances in the equipment and/or the process, each piece of equipment may require a different measurement template.
The Template Monitor Configurator is used to
assign measurement templates to events (events can be ExpressionEvents or UnitBatches)
specify optional output tags for tracking the alarm state, template limits, event duration, RMS, and reason codes.
Template Monitor Configurator Application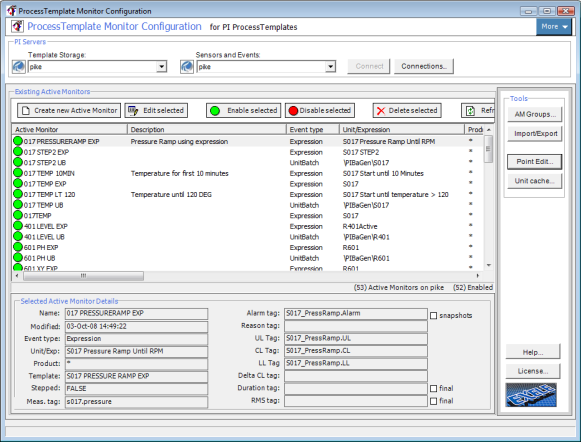 Once the assignment is created, the Template Monitor will use the assignment and configuration information to perform real-time alarming of the measurements during active events.
Real-time Monitor
The real-time Template Monitor is a Windows Service that monitors the current measurements versus the template limits. The Monitor will compare the measurement value to the template limits during active events, outputting current state information to the optional output tags.

The optional output tags include:
current alarm state of the measurement versus the template limits
current limit values
root-mean-suqare (RMS) of the measurement versus the template
event duration
reason code events
The current state of the Monitor Service (active events, current measurements, template limits, and alarm states) can be viewed using the the Monitor Admin application.
Monitor Admin

Presentation
PI ProcessBook and RT WebParts provide the presentation of active events, historical events, measurement tag values, and templates limits.
The ProcessTemplates Add-in for PI ProcessBook returns the template limits and related values in "Custom Data Sets". Template data can be displayed in symbols that support PI tags, including trends, XY plots, Batch trends, and values symbols.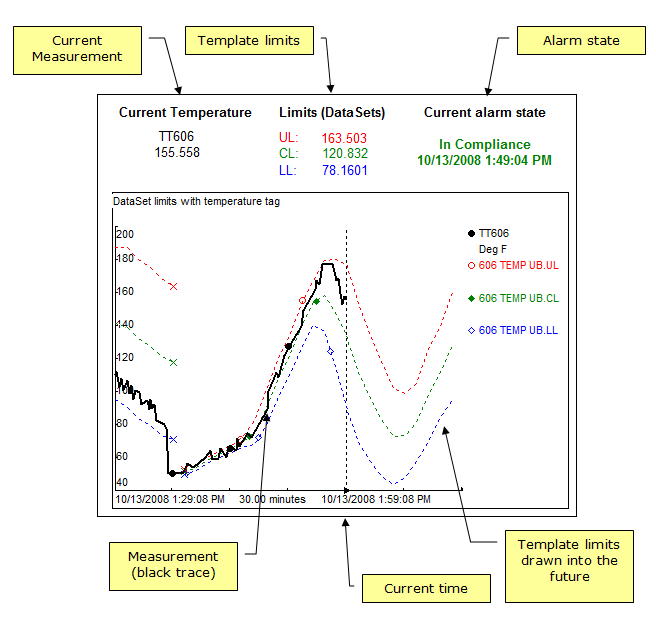 Notification
ProcessTemplates includes Exele TopView for PI for notification of alarm events

Once you have configured PI ProcessTemplates to monitor your measurements, TopView for PI can immediately send notification to one or more recipients (email, SMS, text, pager, voice) if the measurements exceed the defined template limits. For more information on TopView, see our TopView page.
Details for the included TopView for PI license:
Requires a renewed support agreement or new purchase through Accelerated Information Technologies (see below)
One free TopView for PI license that can monitor up to 10 PI tags will be provided for each PI ProcessTemplates Monitor license.